Recommended Plans
Matsuyama
Grow and Eat Local! Spring Nature Exploration and Specialty Product Enjoyment Course in Matsuyama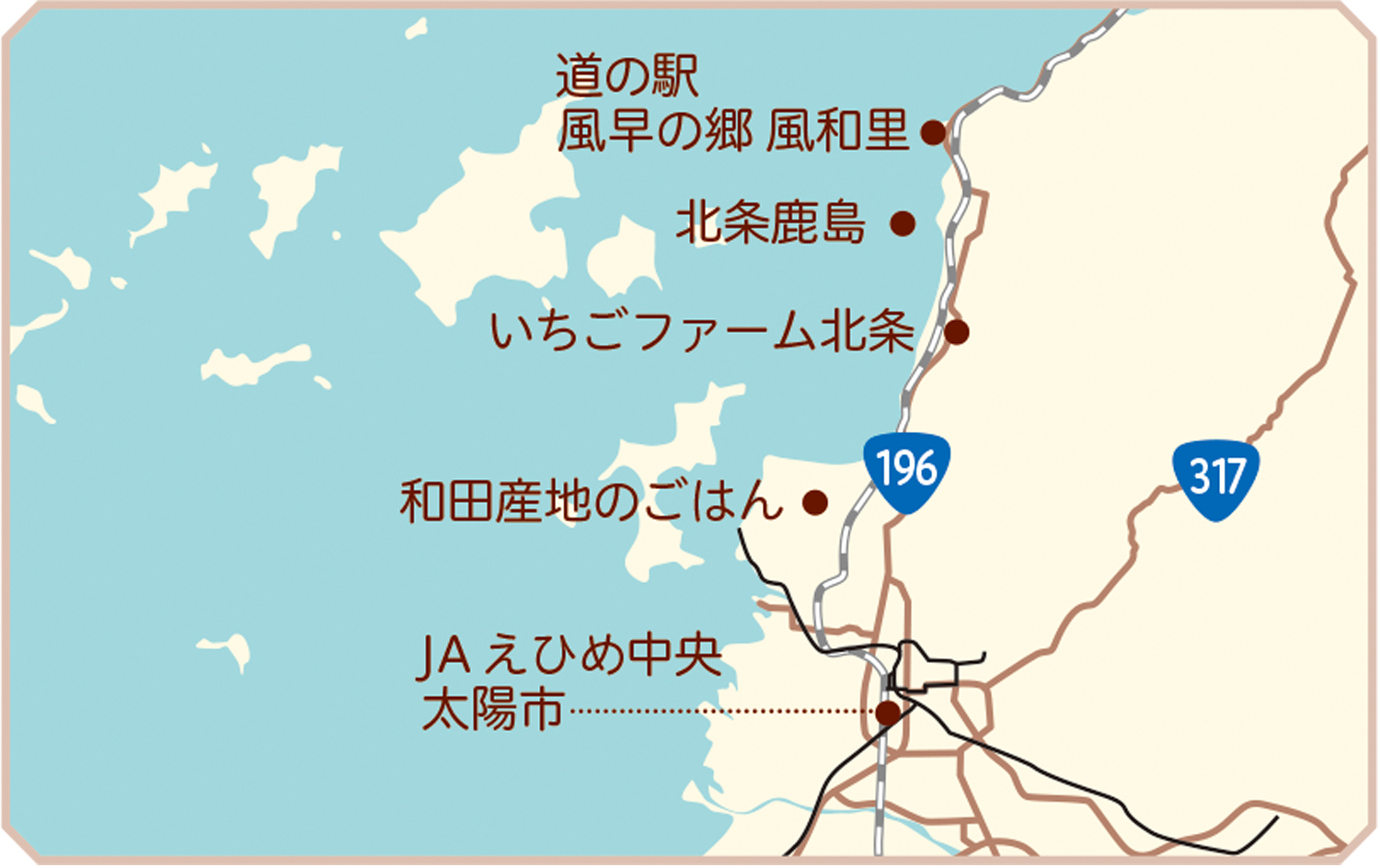 ---
Day1
Shopping
「JA Ehime-Chuo Ohisamaichi」まで移動しました。

10:00
So many fresh local produce offered in the spacious store!
Also check out the seasonal menus offered at the cafeteria and café next door.
Business hours: Ohisamaichi 8:30-19:00
Restaurant 10:00-15:00
CAFE 8:00-18:00
Holidays: New Year holidays
(Restaurant and CAFE:Monday and New Year holidays)
Access: 8-120-1 Chihune-machi, Matsuyama-shi,
Restaurant
「Wadasanchinogohan」まで移動しました。

12:00
A farmer's restaurant that boasts dishes made with home-grown avocado (reservation required).
Contact: 090-1008-4457
Business hours: 11:30-14:30
Holidays: Sunday to Wednesday, June-August, New Year holidays, holidays
Access: 2417-2 Taisanji-cho, Matsuyama-shi
Stroll
「Hojo Kashima Island」まで移動しました。

15:00
3-minute ferry ride from Hojo Port. Ferry boats run every 20-30 minutes between Kashima and Hojo Port for your convenience.



"Bell of Happiness" Observatory
Lodging

---
Day2
Experience
「[December-May] Strawberry Picking」まで移動しました。

10:00 Ichigo Farm Hojo
You will be guided to the grow house that offeres the most delicious strawberries that day. A café space is offered at the Natsume garden♪
Access: Hattanchien: 396-1 Hattanchi-kou, Matsuyama-shi
Shopping ・ Restaurant
「Roadside Station – Kazahaya-no-sato Fuwari」まで移動しました。

13:00
At "Restaurant Fuwari," enjoy the popular Taimeshi (rice with minced sea bream) and Kaisendon (assorted seafood over rice) dishes.
Business hours:
Roadside Station: 9:00~18:00,
Restaurant(Monday-Friday)11:00~15:00,(Saturday, Sunday, and holidays)11:00~16:00)
Holidays: New Year holiday(Restaurant: Thursday)
Access: 119 Oura, Matsuyama-shi
---
Contact

Matsuyama City Industrial Economics Department, Agriculture, Forestry and Fisheries Division
【TEL】089-948-6565 【FAX】089-934-1808
【HP】 http://www.city.matsuyama.ehime.jp