Recommended Plans
Kumakogen
Autumn Kumakogen Fall Nature and Delicacy Course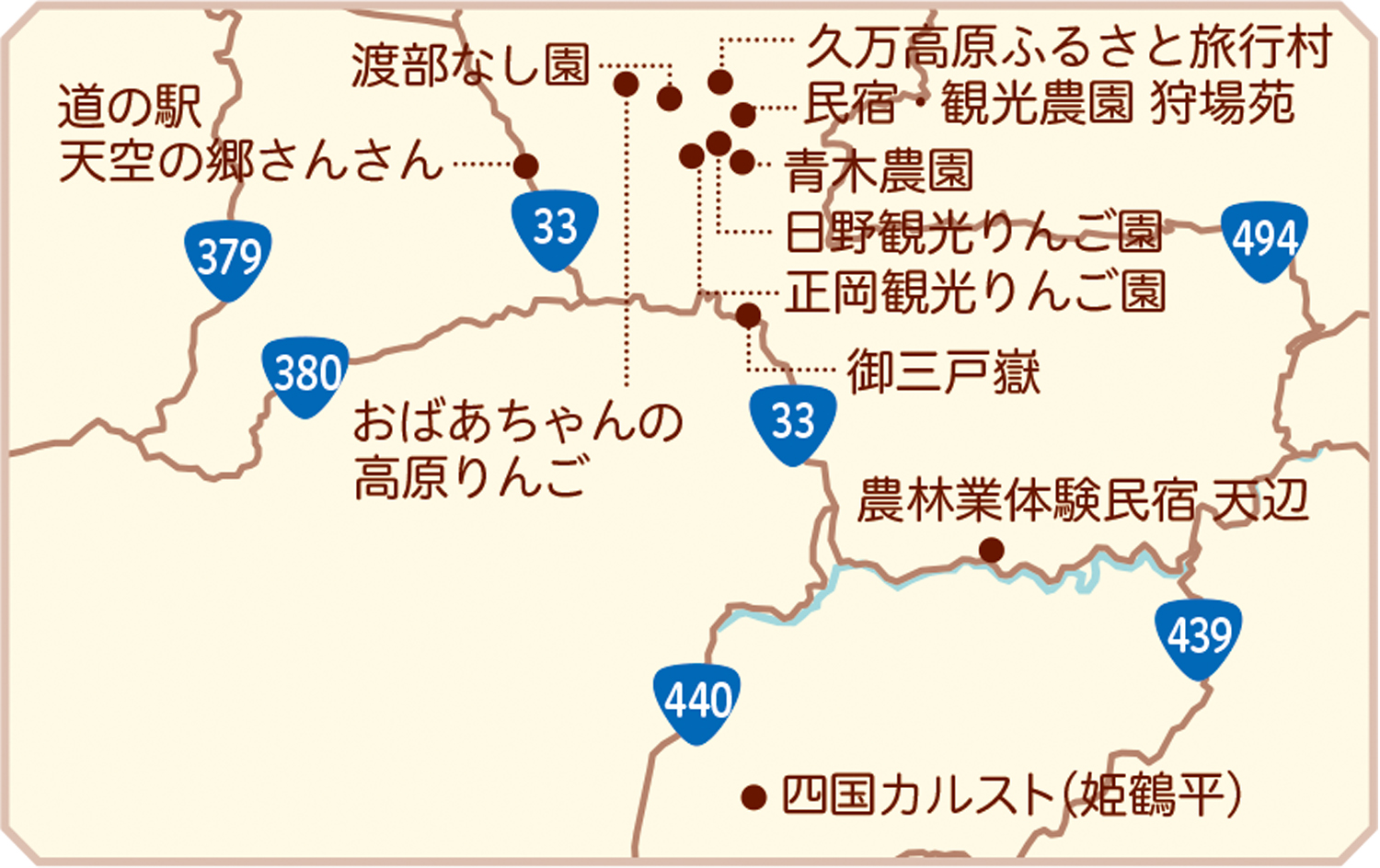 ---
Day1
Shopping
「Roadside Station Tenku-no-Sato Sansan」まで移動しました。

9:00
Come taste the popular highland-grown vegetables! Also enjoy the buffet restaurant and bread shop!
Business hours: 9:00-17:00(Hours may vary by facility and season)
Holidays: New Year holidays(Holidays may vary during winter)
Access: 1855-6 Irino, Kumakogen-cho, Kamiukena-gun
「Shikoku Karst (Himezurudaira)」まで移動しました。

11:00
Cycle through the Shikoku Karst♪
Rent an E-BIKE at the cycle station next to Himetsurusou and enjoy the scenery and feeling of liberation!
Contact: 0892-21-1192 (Kumakogen Town Tourism Association)
Business hours: 9:00-16:00
Holidays: Monday-Wednesday every week (excluding holidays), Mid-November-March
Access: beside Himezuru-so, Nishitani, Kumakogen-cho, Kamiukena-gun
Experience
「Pizza-Baking」まで移動しました。

13:00
Experience pizza-making in a handmade stone oven at the top of Teppen farmhouse inn♪
Lodging
「Teppen Agriculture and Forestry Lodge」まで移動しました。

A peaceful inn with an old-fashioned Goemon bath that was relocated from a boat inn back in around 1890. Offers dishes made using local ingredients and their famous homemade "Teppen Black Tea".
Access: 2150 Nakatsu, Kumakogen-cho, Kamiukena-gun
Day2
PhotoSpot
「Mimidodake」まで移動しました。

Mimidodake
10:00
Stunning structural beauty created by nature!
Access: Shide, Kumakogen-cho, Kamiukena-gun
Experience
「Taste Hunting」まで移動しました。

Taste Hunting
Access: 1826 Shimohatanokawa-kou, Kumakogen-cho, Kamiukene-gun
「」まで移動しました。
Access: 202-2 Shimohatanokawa-otsu, Kumakogen-cho, Kamiukene-gun
「」まで移動しました。
Access: 673-1 Shimohatanokawa-otsu, Kumakogen-cho, Kamiukene-gun
「」まで移動しました。
Access: 741-3 Shimohatanokawa-otsu, Kumakogen-cho, Kamiukene-gun
「」まで移動しました。
Access: 213ー4 Shimohatanokawa-otsu, Kumakogen-cho, Kamiukene-gun
「」まで移動しました。
Access: 1670 Shimohatanokawa-kou, Kumakogen-cho, Kamiukene-gun
「Kumakogen Furusato Travel Village」まで移動しました。

12:30
Contact: 0892-41-0711
Business hours: 9:00-17:00
Holidays: Mondays, December-March
Access: 488 Shimohatanokawa-otsu, Kumakogen-cho, Kamiukene-gun
---
Contact

Kumakogen Town Agricultural Strategy Division TEL:0892-21-1111 FAX:0892-21-0922